Slate Outlook:
'Twas two nights before Christmas, and all through the NBA,
There's no games on Christmas Eve, so every team gets to play.
Well, every team except the Warriors and Jazz, they get some rest,
But 28 other teams get to prove who's the best.
Enough with the poetry. We got a massive 14-game slate tonight. There are no games tomorrow for the NBA, but tomorrow is basically an NFL Sunday that happens to fall on a Saturday, so there'll be plenty of action for us Dimers.
Ownerships are going to be relatively low tonight, even for high value players. There are a ton of questionable players tonight, and many of them happen to play in the later games. This means that it's super important to have lineups with not too many players in the early games. One way I do this is by creating a strategy where I stack the latest game on the slate. So for tonight, I would go to the stacks tab, select the CHA@LAL game, and select the option for 6 players from this game (see screenshot below). This ensures that I have 6 roster spots available that I can eventually change later in the evening pending any injury news. I don't necessarily have to keep players from the Lakers or Hornets on the roster, I can swap someone in from the 8PM or 10PM games if a high value player becomes available due to an injury.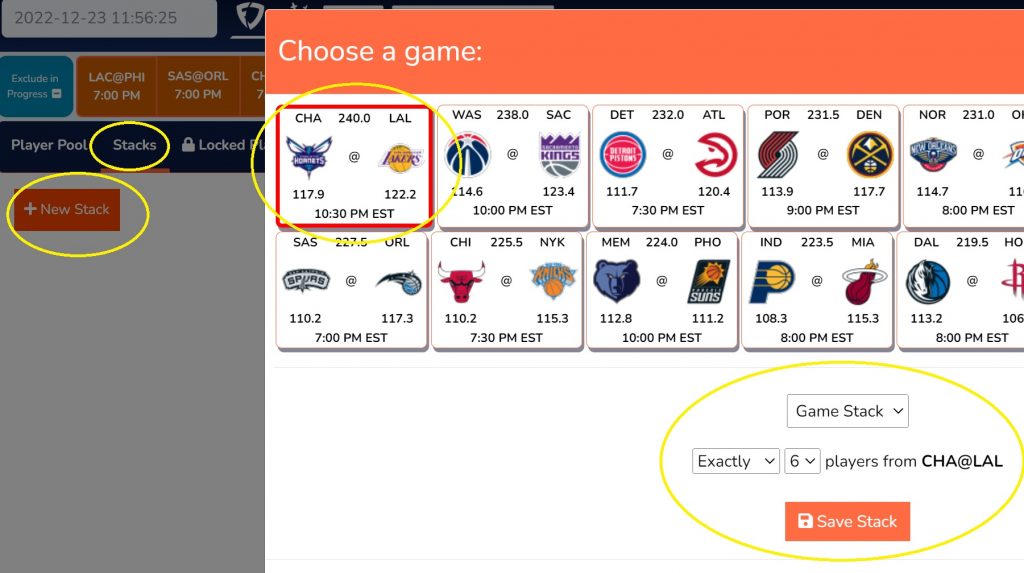 Key Injuries
Spurs:
Jakob Poeltl & Keldon Johnson – Questionable
Keldon Johnson missed last night's game, and the guy who stepped up big was rookie Jeremy Sochan. He also happened to be the guy featured in my article from yesterday. If Keldon Johnson misses tonight's game again, Jeremy Sochan becomes incredibly valuable at 4.3K on FD and 4K on DK. Bates-Diop will see his minutes go back up slightly if Poeltl misses tonight's game, but he's probably still not worth it at his price.
UPDATE: Both players are in for the Spurs. This news came in as I was writing this article.
Cavs:
Evan Mobley & Lamar Stevens – Questionable
Evan Mobley left the Cavs' last game early with a knee injury. Lamar Stevens has already been out for a few games now. If both end up missing tonight's game, that means more minutes for Kevin Love. He played 29 minutes last game with Mobley leaving early, and finished with 26 fantasy points. Jarrett Allen also saw his minutes go up–he played 39 minutes and finished with 35 fantasy points.
Both Kevin Love and Jarrett Allen will likely see their projections go up if both Mobley and Lamar Stevens miss tonight's game. I don't think that Allen's projection will go up enough to the point that he gets picked up by optimizers. However, I do think that Kevin Love will see his projections go into the high-20s. This will almost assure that he gets picked up by optimizers. While Kevin Love is extremely cheap on both FD and DK, I'm not crazy about him tonight, even if Mobley and Stevens miss the game. The Raptors have a solid defense, especially against opposing big men. They are long and athletic, and they have the ability to turn Kevin Love into a non-factor.
Hawks:
Clint Capela – Questionable
Capela has missed the Hawks' last 3 games with a nagging calf injury. Okongwu has been solid in Cap's absence, with his best game coming last game against the Bulls–he finished with 46 fantasy points in 40 minutes. At 5.8K on FD and 5.4K on DK, Okongwu is still a great value if Capela is unable to play, especially considering the fact that he's going up against the Pistons.
T-Wolves:
Kyle Anderson & Rudy Gobert – Questionable
Gobert finally returned to action last game for the Wolves, which meant that our boy Naz was back to being a backup. Gobert is dealing with an ankle injury, but I do expect him to play. If he doesn't, you already know that Naz is the guy. Kyle Anderson missed their last game, and for some reason, the Wolves went small for much of the game. Austin Rivers went off, but I can almost assure you that's not going to happen again tonight, even if Kyle Anderson misses the game. But if you do want to take a flier on Austin Rivers, do it on DK where he's just 3.8K. He's not worth it on FD at 5K.
Celtics:
Robert Williams – Questionable
Robert Williams played a season-high 23 minutes last game in his 3rd game back for the Celtics. However, he's questionable tonight with a non-Covid illness. I'm not crazy about Al Horford either way, although he may end up getting picked up by some optimizers if Robert Williams misses tonight's game. I do however like Robert Williams himself if he plays. He's just 4.3K on DK, and will likely see his highest minutes of the season.
Pelicans:
Zion Williamson & Larry Nance – Questionable
With no Williamson or Nance last night, Willy Hernangomez came out of no where with a huge game. CJ McCollum also had a huge game–finishing with 67 fantasy points. Hernangomez is definitely worth some roster consideration on DK if Nance misses tonight's game after that performance last night. He's minimum-priced on DK. McCollum will be a popular play if Zion misses tonight's game.
Pacers:
Tyrese Haliburton & Aaron Nesmith – Questionable
Expect every Pacers players' value to go up if Haliburton misses tonight's game with a sore wrist. I expect him to play, however. If he doesn't, TJ McConnell might get the start, which would give him huge value. Other guys to look out for would be Buddy Hield, Andrew Nembhard, and third-year man Jalen Smith. This will be exacerbated if Aaron Nesmith also misses tonight's game.
Nuggets:
Jamal Murray & Michael Porter Jr. – Questionable
MPJ may finally return to action tonight. But even if he does, he will almost assuredly be on a minutes restriction. Jamal Murray missed the last game for the Nuggets, and Christian Braun ended up starting. He's a solid play tonight if Jamal Murray misses the game again. He's minimum-priced on FD and just 3.4K on DK. Aaron Gordon also played solid last game and may be worth picking up in a few lineups if both Murray and MPJ miss tonight's game, but only on DK, where he's just 6.8K.
Wizards:
Deni Avdija, Rui Hachimura, & Kristaps Porzingis – Questionable
Kuzma has been solid all season long. Many were expecting him to go off last night with no Porzingis in the lineup for the Wizards, but he had a sub-par game, finishing with just 31 fantasy points in 34 minutes. Besides Bradley Beal, most of the other Wizards players were unimpressive last night. As far as tonight goes, I don't see much value in any of the Wizards players besides Bradley Beal and Kuzma, even if Avdija, Porzingis, and Rui all miss the game tonight.
Hornets:
Terry Rozier – Questionable
LaMelo stepped up big last game with Terry Rozier out of the lineup for the Hornets. Expect him to be a popular play again tonight on FD if Rozier ends up missing the game again. However, this news might not come out until well after lock, so keep some roster spots open just in case, as I mentioned earlier. At 9.8K on DK, he's a little too rich for my blood. Gordon Hayward might be worth a few lineups on DK, however, sitting there at 6.1K.
Value Plays:
Kenyon Martin Jr. – HOU
FanDuel: Salary: 4,200 | Projection: 24.46 FP | Projected Ownership: 16.03%
DraftKings: Salary: 3,700 | Projection: 24.89 FP | Projected Ownership: 42.63%
Kenyon Martin Jr played solid in his last game, finishing with over 30 fantasy points in 28 minutes. He's extremely inexpensive, especially on DK. He's averaging 26 minutes per game in his last 3 games. However, he may be fade-worthy, especially considering the fact that he's going up against the Mavericks who give up the least amount of fantasy points to opposing power forwards.
Thomas Braynt- LAL
FanDuel: Salary: 6,100 | Projection: 34.18 FP | Projected Ownership: 17.36%
DraftKings: Salary: 6,100 | Projection: 34.29 FP | Projected Ownership: 19.10%
Thomas Bryant is averaging 30 fantasy points per game in the 3 games that he's started for A.D. Tonight, he faces a Charlotte Hornets team that gives up the MOST fantasy points to opposing centers, making Thomas Bryant one of the highest value centers on the slate. However, if Capela misses tonight's game, Okongwu may take that title.
Key Fade
Kenyon Martin Jr. – HOU
As I mentioned earlier, KMJ is facing a very good Mavericks defense. The Mavericks give up the fewest fantasy points to opposing power forwards. There are other power forwards around that same price-point who can outscore KMJ, specifically Jeremy Sochan, who had a huge game last night.
Sleeper Picks
Franz Wagner – ORL
FanDuel: Salary: 7,100 | Projection: 30.43 FP | Projected Ownership: 1.99%
DraftKings: Salary: 6,200 | Projection: 31.31 FP | Projected Ownership: 0.41%
With a lot of other SG/SFs having higher value than Franz tonight, expect him to be very low-owned. However, he's facing a San Antonio Spurs team tonight that gives up the 2nd most fantasy points to opposing wing players. He's putting up solid scoring numbers, he's just been lacking in all of the other statistical categories recently. That being said, he's already had a 48 and 50 fantasy point game this season, and he certainly has that ability to explode again tonight against the Spurs. And at 7.1K on FD and 6.2K on DK, he's not going to kill you if he simply hits his average of 31 fantasy points.
Deep Sleeper
Kyle Lowry – MIA
FanDuel: Salary: 6,400 | Projection: 27.46 FP | Projected Ownership: 1.34%
DraftKings: Salary: 6,400 | Projection: 28.5 FP | Projected Ownership: 0.01%
Kyle Lowry is going to be virtually unowned tonight for the Heat. He's returning to action after missing the last 3 games. Usually, guys are rusty after missing that many games. But for an older veteran like Lowry, I think the rest factor is going to play in his favor. He's averaging 36 minutes per game this season, which is amazing for a guy his age. He's already had a 60+ and 50+ fantasy point game this season. A big game from Lowry could break the slate tonight.