Late swapping is an essential part of becoming a good DFS player. Before I go through the different ways that you can late swap with our optimizer, let's first discuss why late swapping is important.
Why Late Swapping is Important
For many, late swapping simply means swapping out a player after lock if that player gets put on the injury report. However, if this is all you're doing as far as late swapping, you're putting yourself at a huge disadvantage. Rather than simply swapping out that player, it's better to re-run the optimizer all over again, while locking in the players whose games already started. It's necessary to re-run the optimizer because now that there is new injury news, that changes the entire landscape of the projections. The injured player's backup becomes far more valuable. That value may allow you to scoop up a more expensive player that you wouldn't have been able to pick up otherwise.
How to Late Swap
There are several ways to late swap with our lineup optimizer. Let's go through them:
The Manual Way
For purposes of this example, pretend it's 9:00 PM EST, and the first NBA game on this slate started at 7:30 PM EST. The next game isn't until 10:00 PM. We currently have 4 players from the first game in our FanDuel Lineup:
Jimmy Butler – PF
Julius Randle – PF
Quentin Grimes – SG
RJ Barrett – SF
All of the other players in this lineup aren't locked in yet because their games haven't started. In order to do a late swap, refresh the optimizer, and select the "Exclude Games In Progress" button near the schedule at the top: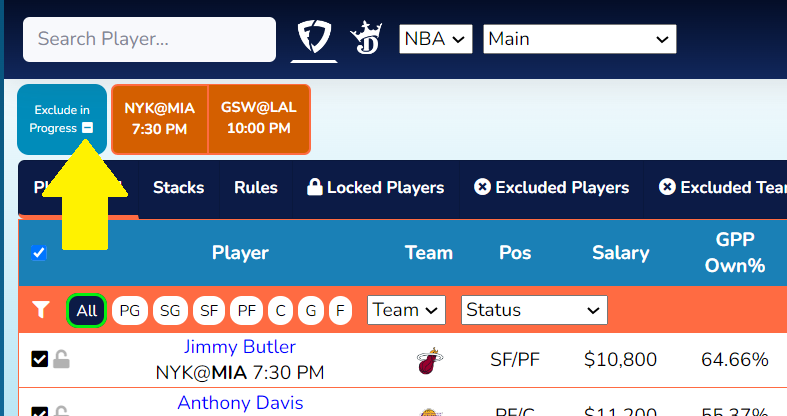 Once you do this, all of the games/players in progress will be excluded: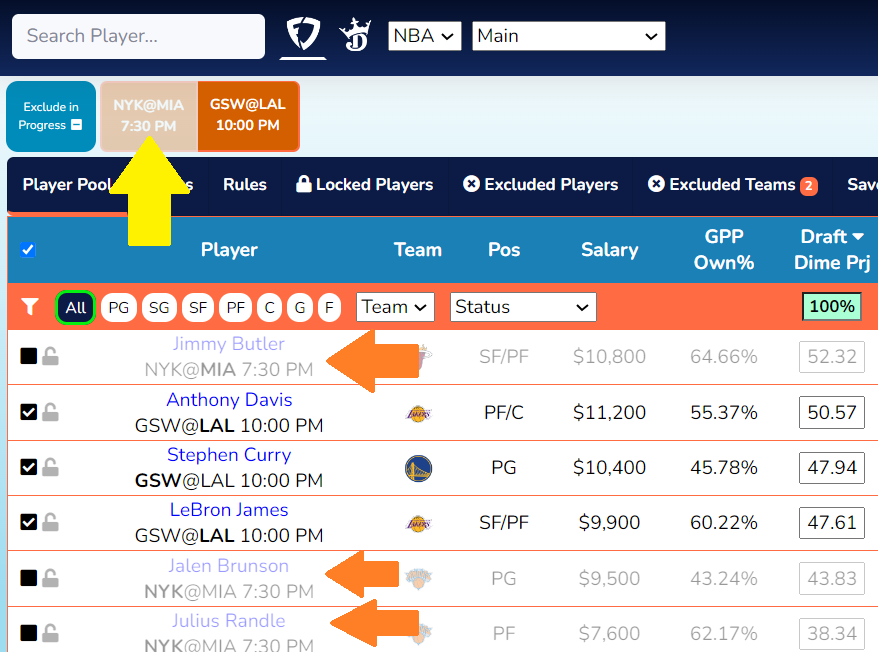 Now you must lock the players who are already in your lineup: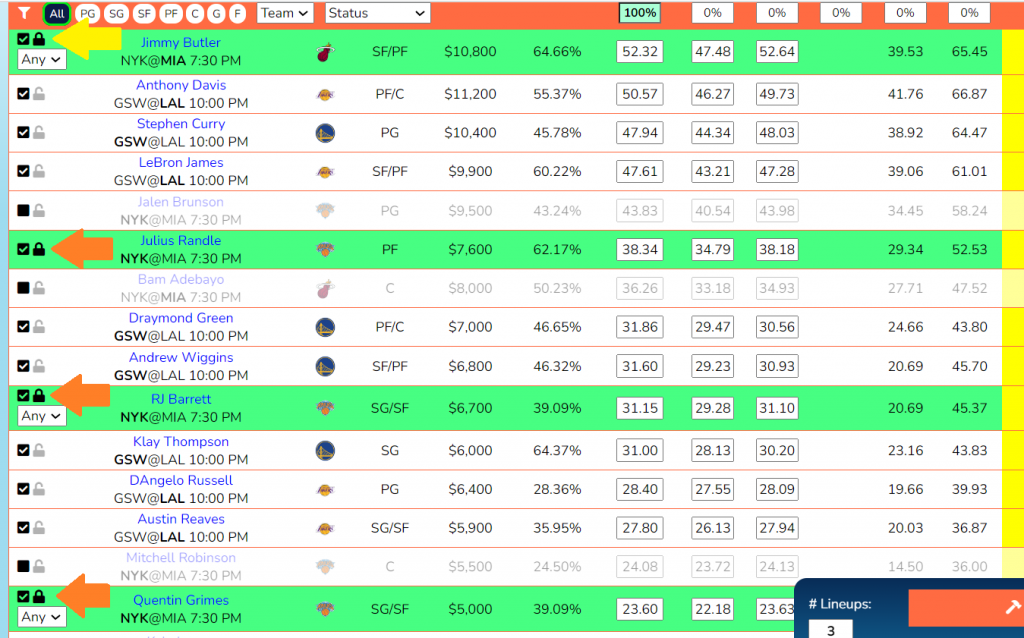 However, some of these players are eligible for multiple positions. Therefore, you must choose the actual position that they're locked into your FanDuel Lineup as from the dropdown menu near the lock. For example, Jimmy Butler is eligible to be either a SF or a PF. However, on your roster, he is a PF. Therefore, you must choose PF from the dropdown menu: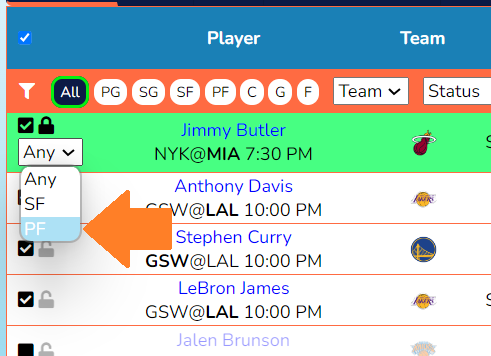 Repeat this for all of the other players who are eligible for multiple positions: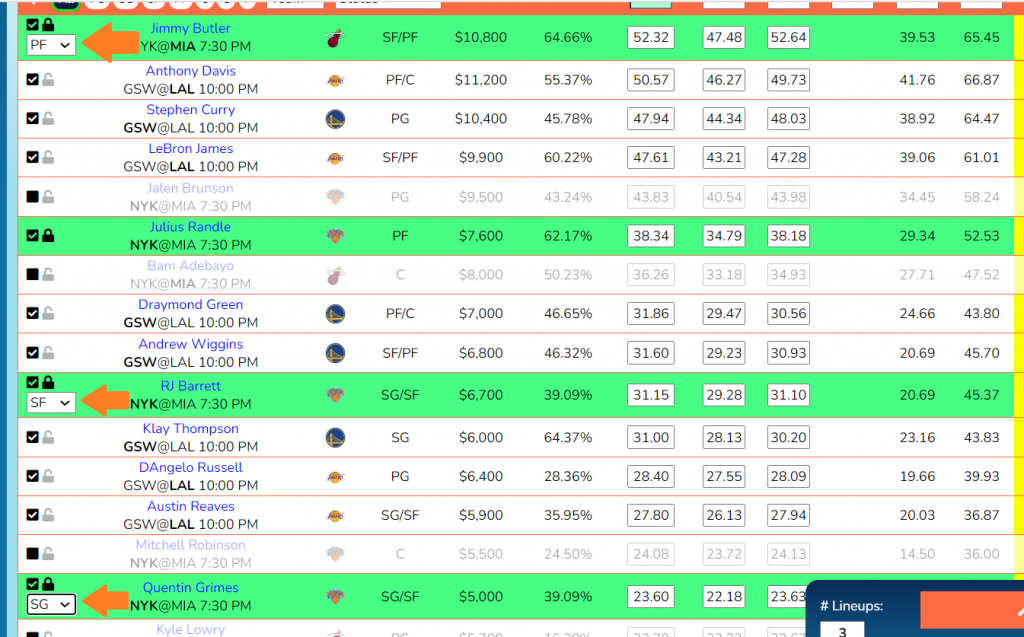 Now that you have all of the players locked into the correct position, you can do a late swap. Simply hit generate lineups and the optimizer will re-optimize your lineup: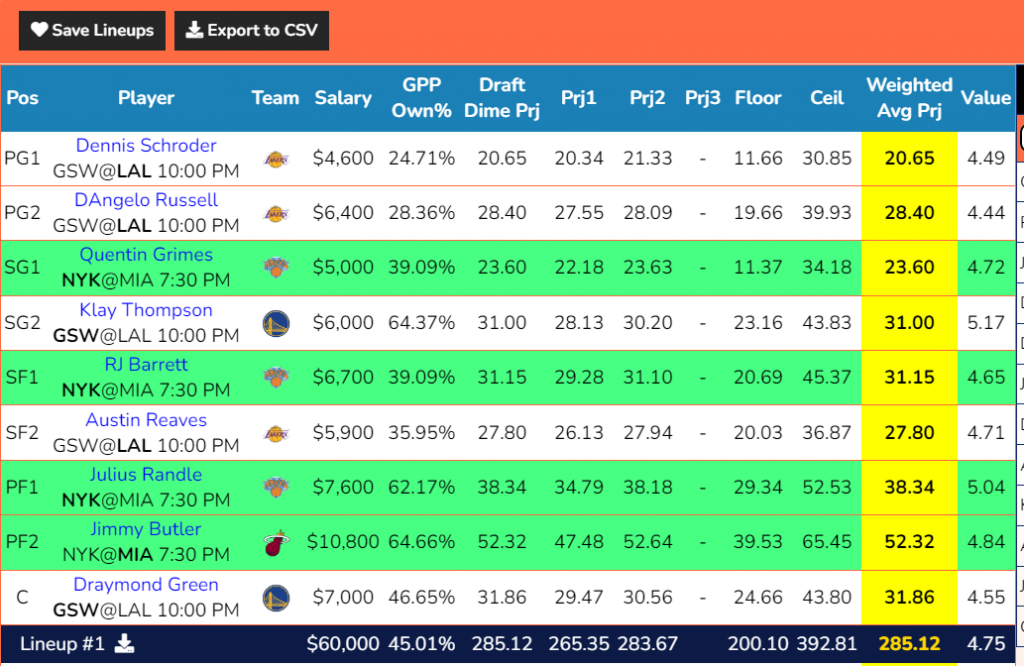 The Quick Way
We created a quicker way of late swapping your lineups. However, in order to access this quicker method, you must first save your lineups. The best way to do this is to generate your lineups right before lock. In this example, lock is at 7:30 PM. So usually I'll generate my lineups around 7:25 PM and save them right then and there by clicking the "Save Lineups" button at the top of the lineups that were just generated: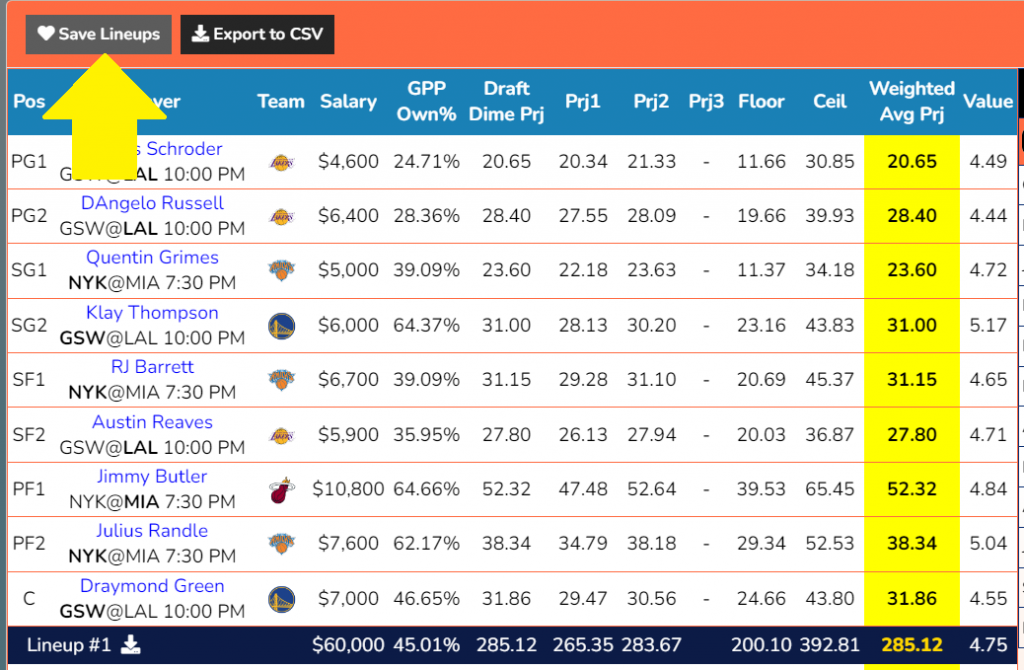 Once you click this button, window will appear prompting you for a lineup name. Let's call these lineups "Top 3". Once you've typed a lineup name, click the "Save Lineups" button:

Now that these lineups are saved, you can access them at any time under the "Saved Lineups" tab: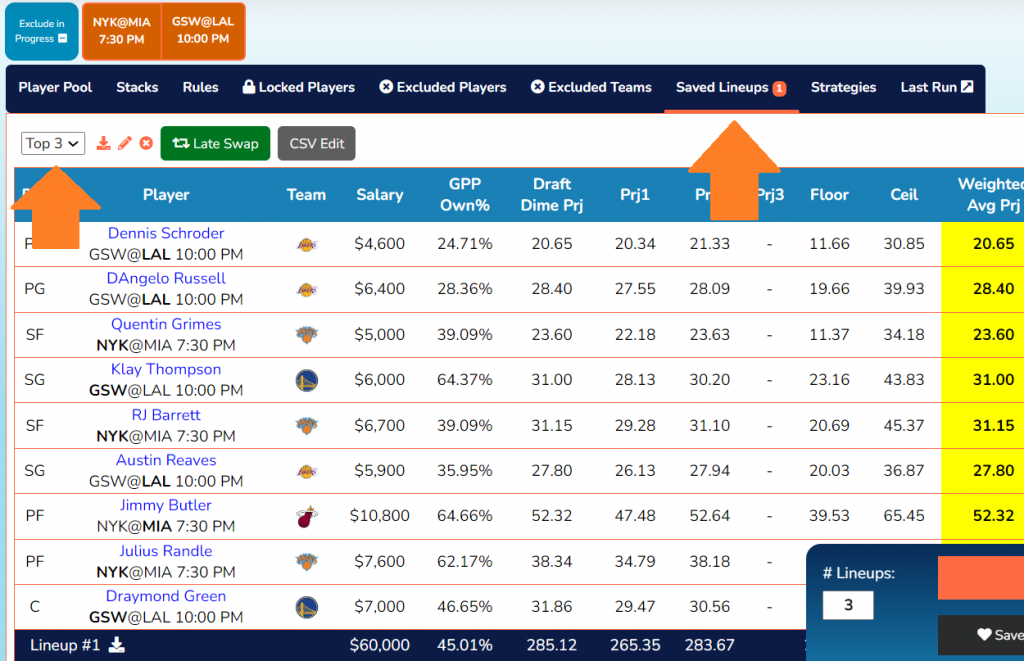 Now let's pretend that it's 9:00 PM and the next game starts at 10:00 PM, and you want to do a late swap. Simply hit the green "Late Swap" button and our optimizer will automatically run a late swap for you.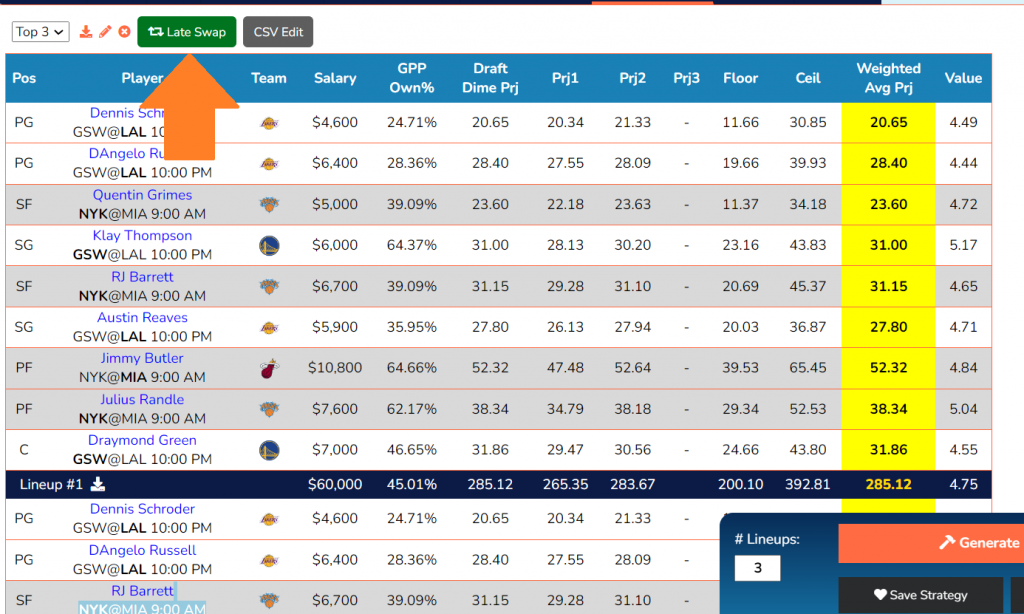 Notice that the players whose games already started are highlighted grey. In this case, I actually have 3 lineups saved. So the optimizer will late swap all 3 of those lineups, in consecutive order. Here's the results of the late swap: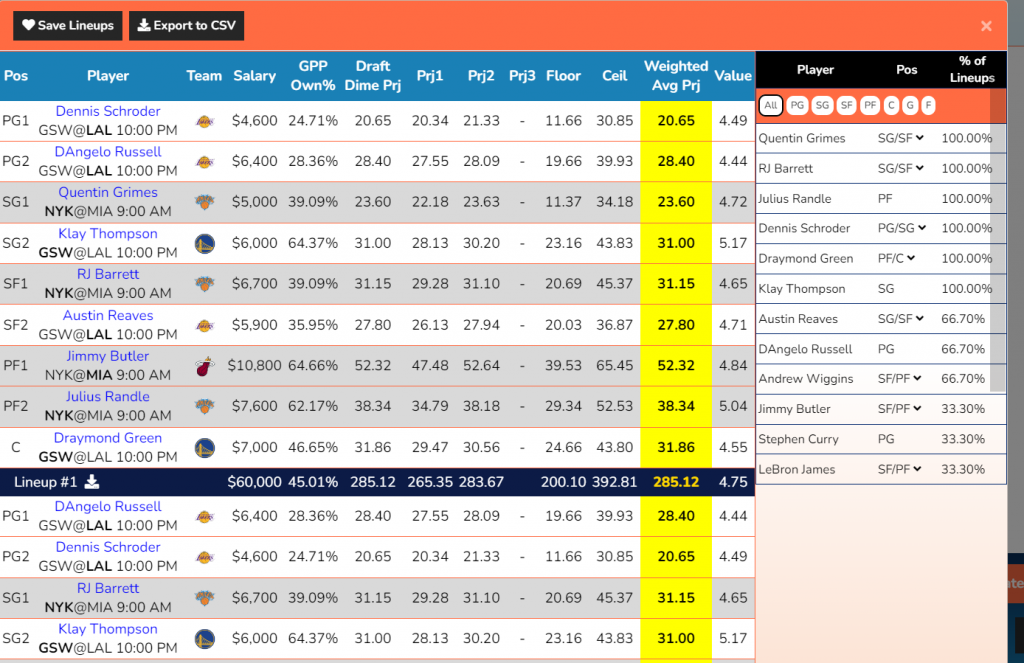 Notice that the lineups actually did not change in this example. Don't expect that to be the case most of the time. Lineups change very frequently.
Remember to save your new, re-optimized lineups
Once you run a late swap, you'll need to save your new lineups for future late swaps. Hit the "Save Lineups" button at the top. I usually just replace my existing lineups rather than saving it as a brand new set of lineups:

If you forget to save your new late-swapped lineups, don't worry, we'll give you a nice reminder:
The Quickest Way
The quickest way to late swap is to simply load your csv file from FanDuel or DraftKings. Refer to our previous lesson on CSV Editing for information on how to download the CSV file from FanDuel and DraftKings on both mobile and desktop.
Once you have the file downloaded, go to the "Saved Lineups" tab and click the "CSV Edit" button: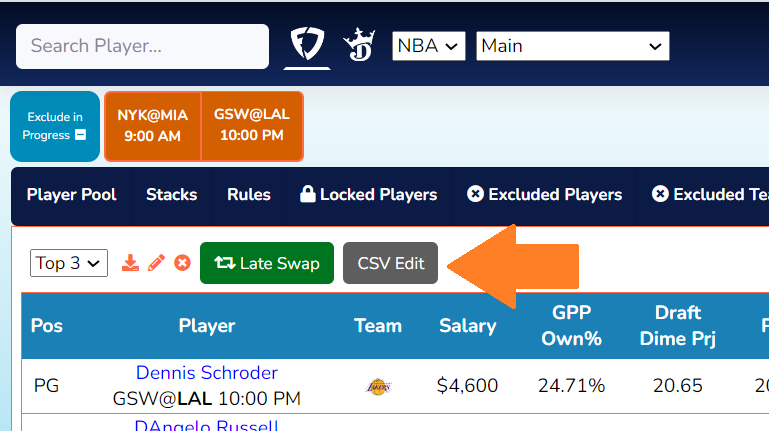 If you already loaded this file prior to lock, you won't need to re-upload your FanDuel or DraftKings file. If you didn't upload your file yet, it will prompt you for the file: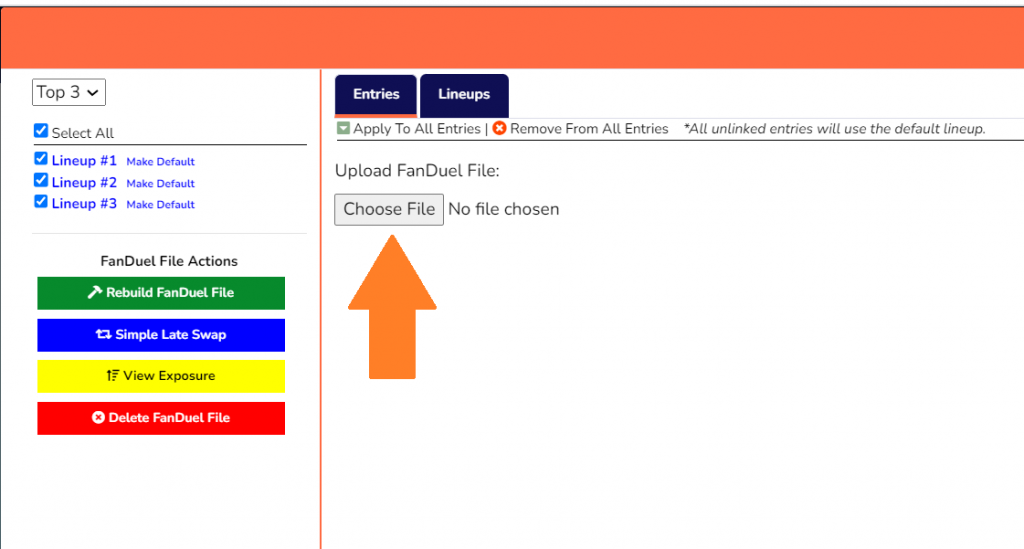 Choose the file that you just downloaded from FanDuel/DraftKings: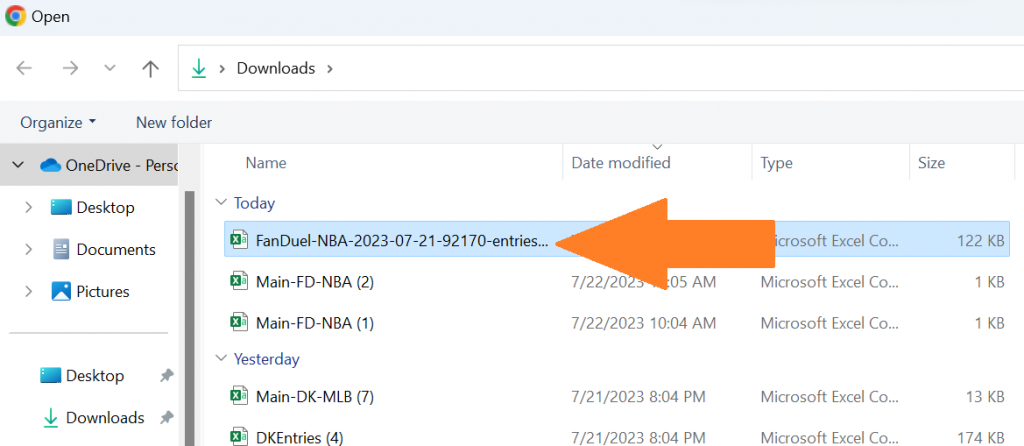 Once you do this, all of your entries will appear. You can toggle between entries and lineups at the top: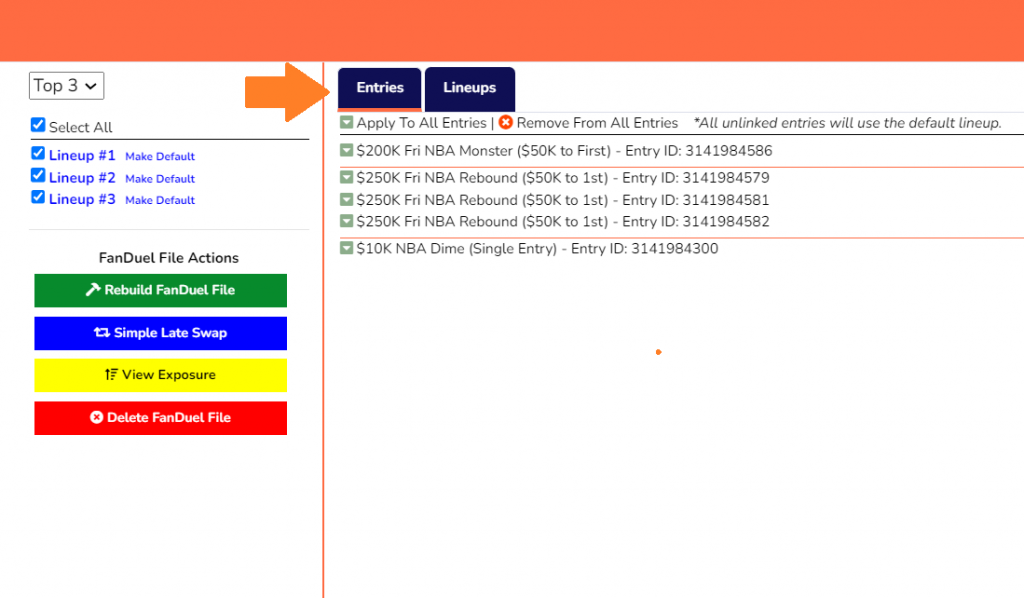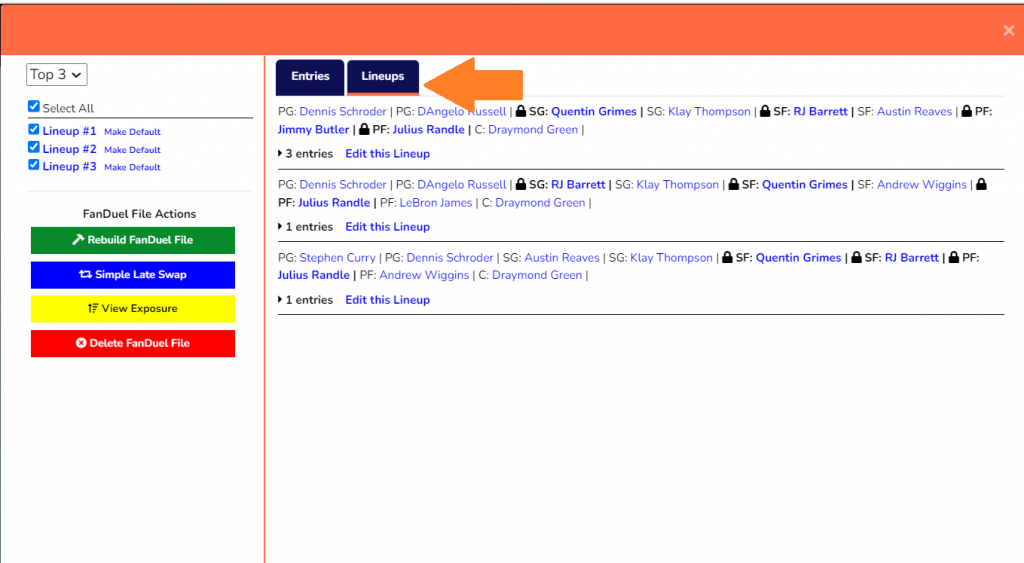 Now all you need to do is hit the "Simple Late Swap" button and our optimizer will build a brand new file for you to upload to FanDuel/DraftKings.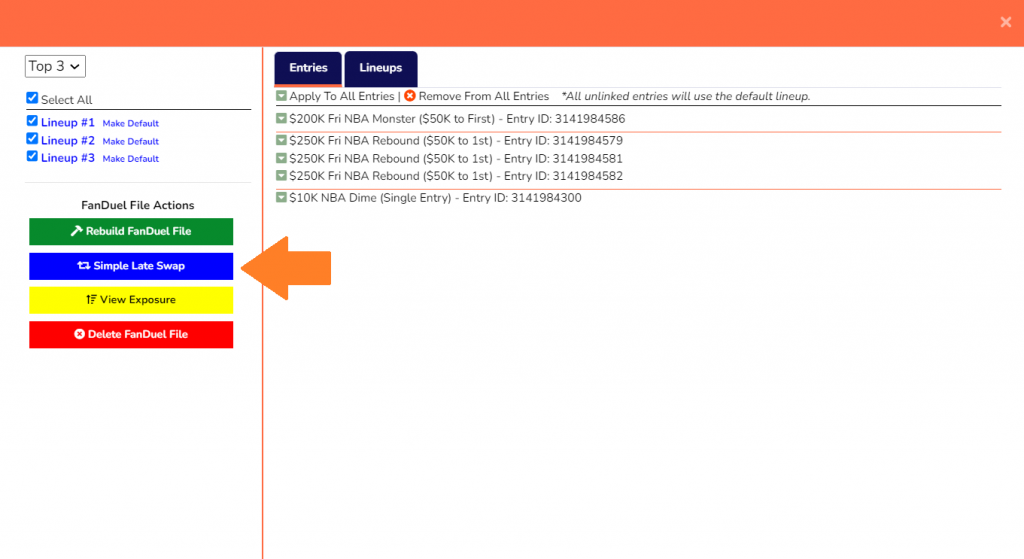 Please note that you will only need to upload your FanDuel or DraftKings file to DraftDime once. Once it's uploaded, all you need to do is hit the "Simple Late Swap" button. However, if you're running into issues uploading your file into FanDuel or DraftKings, it probably means that you messed up somewhere along the way. If that's the case, you'll want to delete the file and re-upload it. Delete the file simply by hitting the "Delete FanDuel File" button: